Welcome to Express Roadside
Your best choice for fast, around-the-clock roadside service in the Phoenix area.
1-480-839-5555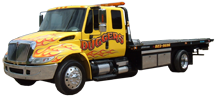 Link to Dugger's Towing
Dugger's - Express Towing & Roadside Service to Phoenix, AZ and the surrounding areas including Tuscon, Scottsdale, Glendale, Gilbert, Pioria, Chandler, Mesa, Albuquerque, and Tempe. We offer complete 24 Hour Towing Services including Flatbed Towing, Emergency Towing, & Roadside Assistance.
Dugger's-Express is the preferred provider for all of the following motor clubs